DUP talk to government about Brexit deal – BBC News
https://www.bbc.co.uk/news/uk-northern-ireland-47566534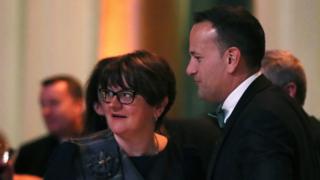 A Brexit deal could still be reached in the next few weeks because the "final part of a negotiation" is when it matters most, the DUP leader has said.
Speaking from Washington DC, Arlene Foster said the last part of talks is "when you start to see the whites in people's eyes".
Her party is in discussions with the government, amid reports it could back the PM's Brexit deal.
This follows MPs' rejection of the idea of leaving the EU with no deal.
Mrs Foster, who is attending St Patrick's Day events this week, said DUP representatives were speaking to the government and Attorney General Geoffrey Cox about changes to the deal.
"Nobody wants to leave without a deal and we want to make sure we get there," she told BBC News NI.
The government's deal was rejected for a second time on Tuesday in Parliament.
'Brexit tests'
On Thursday, MPs voted in favour of a government motion seeking a short delay to Brexit, meaning the UK may not now leave on 29 March as previously planned.
The prime minister said Brexit could be delayed by three months, to 30 June, if MPs back her withdrawal deal in a third vote next week.
If they reject her deal again then she said she will seek a longer extension – but any delay has to be agreed by the other 27 EU member states.
The DUP leader said her party wanted the UK to leave the EU with a deal, but that her party had certain tests it must meet before they will back it.
"It's very simple – what it will take to get the DUP over the line is the fact that Northern Ireland is not left behind, the constitutional integrity of the UK is the same and we have a strong say in the future of the UK," she said.
"Brexit is two weeks away, as I've constantly said, when you come to end of a negotiation that's when you really start to see the whites in people's eyes and you get down to the point where you can make a deal."
---
Analysis: DUP centre stage once more
By Jayne McCormack, BBC News NI Political Reporter
It's no surprise that the DUP find themselves centre stage in the Brexit soap opera once again.
Their votes have been crucial throughout the Brexit process, and they haven't been shy of reminding the PM how much power they wield from time to time.
That being said, Wednesday night's votes in Parliament surely did not go how the DUP had hoped.
And the government's publication of its no-deal tariff plans for Northern Ireland have turned up the political heat.
Quiet conversations will be happening all across Westminster, and in Washington today, to see if there is any way through this cloud of political smog.
---
Mrs Foster also confirmed that she had discussions with Taoiseach (Irish prime minister) Leo Varadkar in Washington on Wednesday.
She said they had a private meeting where they talked about a range of matters, but that Brexit was on the agenda.
Mr Varadkar also welcomed the Westminster vote against a no-deal Brexit, saying things are looking a "little brighter".
Theresa May has said Brexit could be delayed for a prolonged period if her deal is not accepted.
She even suggested the UK may have to take part in European elections in May.
The government has also indicated it would allow MPs to hold a series of votes on possible ways forward in the Brexit process, if the House of Commons blocks Theresa May's deal a third time.
MPs will vote later on a motion calling for a three-month delay if Parliament backs Theresa May's deal, or a longer one if MPs do not support it by 20 March.
'Reflection period'
Meanwhile, the Tánaiste (deputy prime minister) Simon Coveney has said a Brexit extension of 21 months is possible.
Mr Coveney told Irish national broadcaster RTÉ that a long extension would give the UK a "reflection period" about the kind of Brexit it wants.
He said he believed an extension would be granted as long as there was an associated plan, which might lead to a fundamental rethink.
Mr Coveney added that events in the House of Commons on Wednesday night marked a turning point for Brexit.
He said it was "very reassuring to show that they don't want to crash out of EU without a deal", but accepted that a "crash-out" was still legally possible.
It is hoped that Brexit might take a positive turn over the next week, meaning more certainty, he added.